Thermometer
Diabetische Voet Thermometer
Podologische infrarood thermometer voor diabeten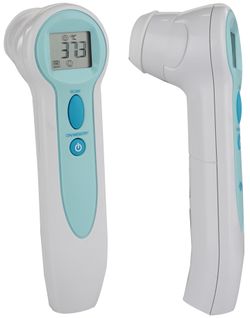 RDSM verdeelt een gamma thermometers die specifiek ontwikkeld werden voor het voortijdig opsporen van voetproblemen bij diabetici.
De controle van de huidtemperatuur met IR19 vermindert het risico op diabetische voetulceraties, kosten voor de gezondheidszorg en kan meer tenen, voeten of benen redden!
Gebruik de nieuwe IR19 infrarood thermometer als een screeningmiddel om ontstoken gebieden van de huid op te sporen
Meet de huidtemperatuur van beide voeten dagelijks op zes vooraf bepaalde plaatsen
Indien er op eender welke plaats een temperatuursverhoging is van > 2.2įC vergeleken met de corresponderende plaats op de andere voet biedt u best meteen de beste zorgen aan de voet met hogere temperatuur
Voet Thermometer Kenmerken
Geavanceerde infrarood thermometer
Extra grote display
Grote toets verbetert het gebruik en de activatie
Waterdichte probe
Snelle meting in 1 seconde
Voldoet aan de precisie vereisten gespecifieerd in ASTM E1965-98 en de EC directieven 93/42/EEC
Geheugen voor 10 metingen
Publicaties
Foot Temperature in Type 2 Diabetic Patients with or without Peripheral Neuropathy
Preventing Diabetic Foot Ulcer Recurrence in High-Risk Patients - Use of temperature monitoring as a self-assessment tool
Temperature monitoring to assess, predict, and prevent diabetic foot complications.